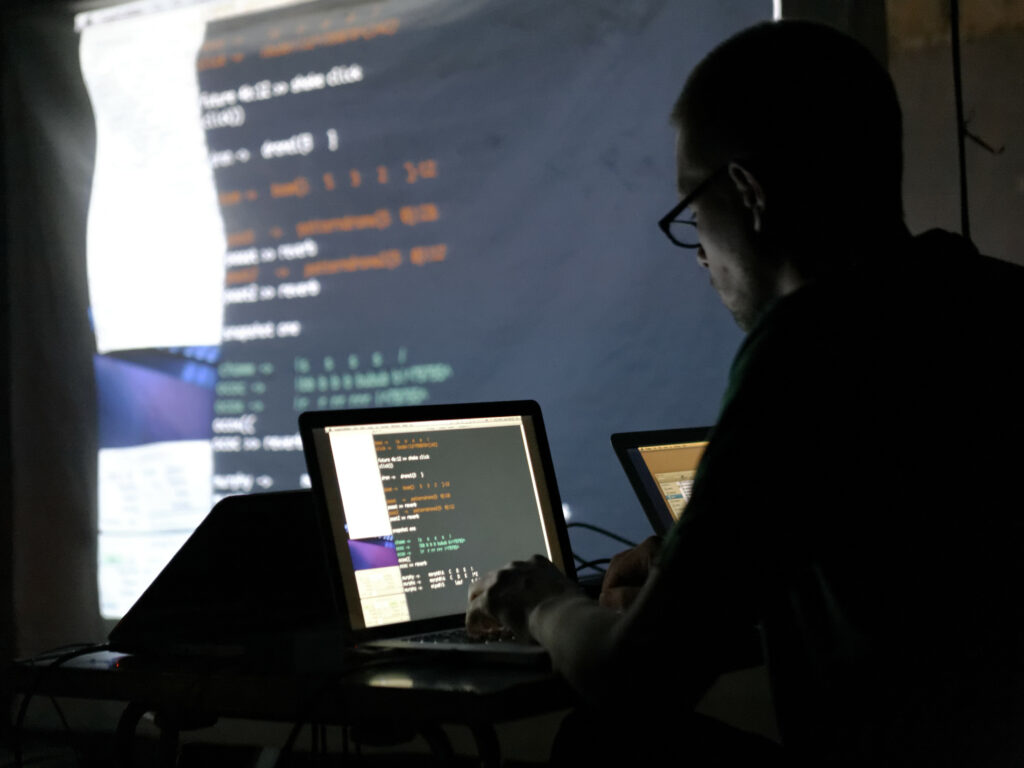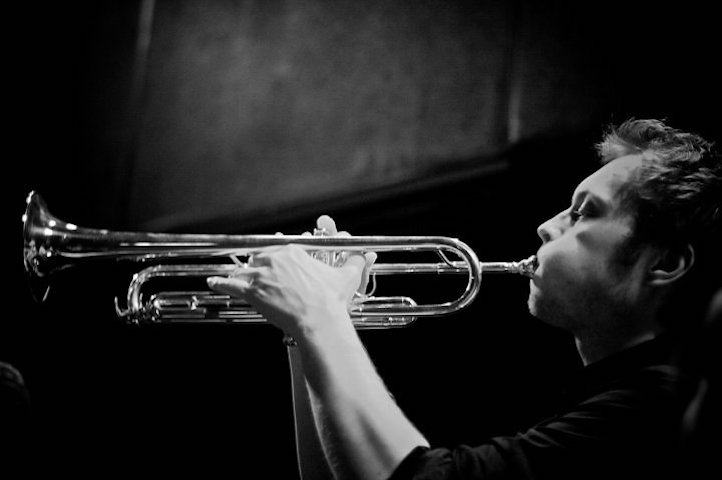 Thor MAGNUSSON and Eiríkur Orri:
Threnoscope and Trumpet
Fermata is a piece for a microtonal drone instrument called Threnoscope and an acoustic instrument. It is a framework for improvisation of microtonal music, where both the live coder and the instrumentalist contribute equally to the piece's development. The Threnoscope is notated through live coding, with sounds being represented on a graphical score next to the coding terminal. Its visual appearance illustrates the harmonics of a fundamental tone, as well as speaker locations. Musical notes move around the spectral and physical space, long in duration, and sculptable by the performer. Fermata has been performed with Adriana Sá (London), Miguel Mira (Lisbon), Iñigo Ibaibarriaga (Bilbao), Áki Ásgeirsson (Reykjavik), Alexander Refsum Jensenius (Oslo), Peter Furniss (Edinburgh), Helen Papaioannou (Sheffield), and Peter Herbert/Hannes Löschel (Linz) and Tommi Keränen (Helsinki). This time Eiríkur Orri will join the piece on trumpet.
Biographies
Thor Magnusson is a Professor in Future Music at the University of Sussex. His work focusses on the impact digital technologies have on musical creativity and practice, explored equally through practice (software development, composition and performance) and theory (academic publications, lecturing, talks) . He is the co-founder of ixi audio (www.ixi-audio.net), and has developed audio software, systems of generative music composition, written computer music tutorials and created two musical live coding environments. He has taught workshops in creative music coding and sound installations, and given presentations, performances and visiting lectures at diverse art institutions, conservatories, and universities internationally.
In 2019, Bloomsbury Academic published Magnusson's monograph Sonic Writing: The Technologies of Material, Symbolic and Signal Inscriptions. The book explores how contemporary music technologies trace their ancestry to previous forms of instruments and media, including symbolic musical notation. The book underpins his research in creative AI, where, as part of the MIMIC project (www.mimicproject.com), Magnusson has worked on a system that enables users to design their own live coding languages for machine learning.
Further information here: http://thormagnusson.github.io
Eiríkur Orri Ólafsson is a frequent collaborator with some of Iceland's most innovative artists, Eiríkur has been a fixture on the alternative and experimental music scene since the late nineties. He spent nine years touring and recording with múm and has collaborat- ed with Sigur Rós as a brass player and also a musical director for their 2012-2013 Valtari and Kveikur tour. Eiríkur has a background as a jazz musician, which leads to him being a sought after improviser in Reykjavík, performing with Skúli Sverrisson, Hilmar Jensson, the Reykjavik Big Band and others. His trio, Hist Og, released its debut album, "Days of Tundra" in 2019. It was well received, including three nomi- nations to the Icelandic Music Awards. His musical approach varies from abrasive and disembodied noise to medita- tive sound weaving, often incorporating electronics. As an arranger, he as arranged strings and brass for Sigur Rós, múm, Sin Fang, Kira Kira and others.