Voice (a Retracing)
Composer: Tom Williams, Video artist/dancer: Vida Midgelow, Video assistant: Tim Halliday
Qualities of live movement are visually re-articulated through the use of moving image and sound. Focusing on notions of memory, (dis)appearance, nomadism and pleasure the video material seeks to capture 'in the moment' acts of dancing by movement performer Vida Midgelow, revealing the experiential and embodied nature of solo dance improvisation.
Voice, the sound score, gives voice to the utterances of a diffused and disparate voice: "listen.. there is nothing… but wait… dear dancer/ dear practice" – "Shifting, sliding, tracing routes, finding pathways" in an effluence of articulations, where fragments of words and ideas tumble, stumble forth.
The score explores semantic resonances and their qualities of onomatopoeia within the spoken text as well as its complex unfolding into an abstract electroacoustic music discourse where words, sonic space, soundscapes and musical processes collide.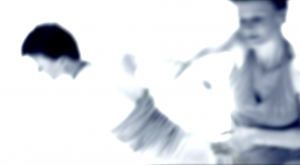 Tom Williams studied composition at Huddersfield and Keele Universities and completed a doctorate in composition at Boston University. He was runner-up at ALEA III 1993 for his piano and tape piece Ironwork, his acousmatic work Break was a finalist of 2004 Music Viva, and Shelter received an honourable mention in IMEB (Bourge) 2006, and in 2010 his acousmatic work Can won the medal of the Senato della Repubblica Italiana for the "electro-acoustic music" section of the VIII International Contemporary Music Contest "Città di Udine". His music has received numerous international performances and broadcasts, and he has written for dance, theatre and education. In 2008 a CD featuring his acousmatic work, Taking Shelter was released. Tom Williams is Principal Lecturer and Course Director for the BA in Composition at Coventry University, UK. www.tw-hear.com
Vida Midgelow is Reader in Dance and Performance Studies, University of  Northampton, UK, and Co- Director of The Choreographic Lab. As a dance artist and scholar she has particular interests in creative processes, improvisation, and the interface between theory and practice. Her book 'Reworking the Ballet: Counter narratives and alternative bodies' was published by Routledge in 2007 and she recently completed a US / UK tour of her improvised performance work 'Trace: Playing with/out memory' – which she made as part of The Choreographic Lab 'Articulating Dance' project.