exact
The work is about exact moment, the moment when you are going reverse and forward at the same time. The beauty and the darkness at the same time.
When something is about to happen but has not happened yet or you don't know if it is going to happen.
The moment on the sea when you are vulnerable surrounded by the sea.
And no way out.
The image of mountains and sea is from Greece shoot in my way from the Island of Dreams to Oropus. The Icelander in me looks for the mountains and the sea wherever I go.
The video is shoot on I still image Leica camera so the frames are fewer than in usual vide recordings. So the process of the editing is unusual and the sequences are layered in many broken forms of the image.
The sound is produced in Abelton live and I use similar process as used for the vide editing. Where sequences are reversed and forwarded multiplied and time and the beat of the sound and images are corrupted to get the exact moment and the feeling I am looking for. Like earthquake or emotional chaos.
The contrast between the beauty of the image and the pain and darkness of the sound makes a little story for the viewer to experience the exact moment.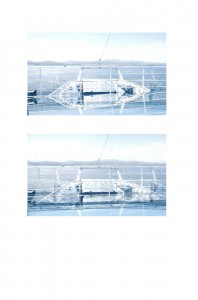 Björk Viggósdóttir (b.1982) graduated from the Art Academy of Iceland in 2006 and has since produced a number of videos and installations. In her general practice Björk deals with visual images, emotions, sounds and sensations in a similar way to what occurs involuntarily in the mind during certain stages of live, whether in dream or at wake. Björk works with colors, emotions, signs and other things from the everyday, which she brings to other dimensions by creating for them new perspectives and settings. In her art Björk likes to encourage her audience to use all their senses for viewing her work by using combinations of different media in her works. She has exhibited her work across Europe, the United States and in Iceland where she frequently collaborates with composers, musicians, dancers and other artists in both solo and group exhibitions. http://bjorkviggosdottir.wordpress.com/