NRA is a carpet revolution currently taking place in Brisbane, Australia spearheaded by multi-visionary artist Joseph Burgess/Unregistered Master Building. Footsoilders of the movement include fellow artist Joshua Wilkinson and members of the KEPK art space on the south side of Brisbane.
NRA's recent work utilises a carpet tufting gun to reflect scenes of unrest in Joseph's hometown of Portland, Oregon. Portland is has been a pivotal city in the BLM movement since the murder of George Floyd. Each night as police and protestors have clashed on its streets downtown has become reminiscent of a warzone. With monuments set on fire, molotov cocktails, and fireworks illuminating the streets of the city. Boarded-up buildings frame the current tension between armoured federal agents and masked citizens. These events are personal to me as I experienced police brutality there in 2009. My work around this topic aims to re-stage my angst about that experience and the city's current circumstances by re-interpreting these images in a new way using the mechanical process of the tufting gun.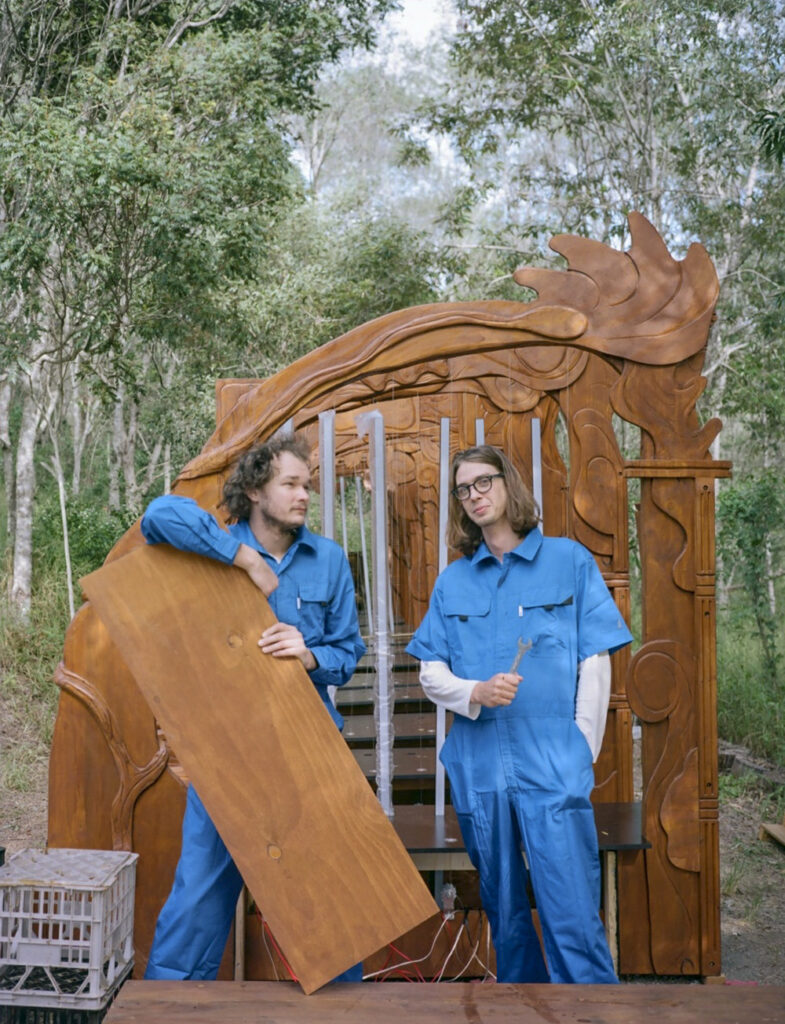 I hate fireworks 
Audio/Visual Performance 
Tufting Gun, Canvas Frame, Scaffold, Audio,
 Duration 5 minutes   
A tufting gun is both loud and aggressive in its application of yarn onto a canvas surface. It's designed to quickly produce carpet. This project disregards its traditional use-value to instead utilise it as a symbolic tool to render images of unrest in Portland in a very potent and disarming way. The performance involves a live carpeting viewed from 360 degrees and consists of a projector projecting an image onto a canvas surface placed on a scaffold structure. From behind the scaffold I retrace the image using the tufting gun.
My tufting gun is fitted with piezos (ceramic disk that translate surface pressure to voltage) that triggers amplified audio samples. The samples include field recordings from Portland protests collected by friends on the front line and sound bites from mainstream media. (see support material video). These samples are selectively triggered by each pulse of the carpet gun creating a pulsing cacophony of sound to accompany the 'appearance' of a 'protest' image in carpet.
As mentioned, the current circumstances in Portland are troubling for me. This project, in particular its performance, aims to not only restage images of the social unrest but to reconcile the tensions that exist within and in society at large. The re-representation of images in carpet has the curious potential to 'soften' their impact while remaining significantly potent and disconcerting (through its very 'gun-like' nature) to infer/reinforce the already existing tensions that are present not only in the USA but in many parts of the world.