tr4nc3f1gur4t10n for dancer, real-time video processing, and electroacoustic music creates a synergy of three different mediums through interactive technology. An amplitude threshold analysis of the audio is used to trigger video processing of an iconic public domain video about the atomic weapon tests at the dawn of the Nuclear Age. Motion sensors worn by the dancer are used to manipulate the processing of the video during the performance. The title of the work refers to society's changing attitudes and perceptions of nuclear energy and warfare, and the possible consequences.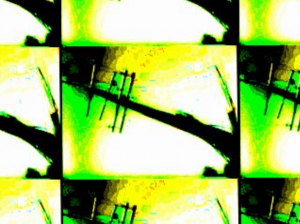 Bradford Blackburn (composer, performer) is an Assistant Professor of Music & New Media Production for The University of Tampa, where he teaches electronic music, theory, and composition, as well as directs the recording and music technology programs. His primary compositional interests include microtonal and extended just tuning systems, experimental instrument building, and interactive computer music. His music has been presented in festivals, and radio broadcasts throughout the United States and South America. Blackburn earned a DMA from the University of Illinois, an M.M. from the University of Miami, and a B.M. from the State University of New York at Fredonia. www.bradfordblackburn.com/
Ya-Ju Lin (choreographer) is a dancer and choreographer, originally from Taiwan, whose work includes Modern, Ballet, and Chinese Folk Dance. She has performed professionally with the Chicago Opera, the Metropolitan Opera in New York City, and the Lyric Opera of Chicago. As a choreographer her works have been presented in the United States and Taiwan. She currently teaches choreography, improvisation, and the Alexander Technique at The University of Tampa.