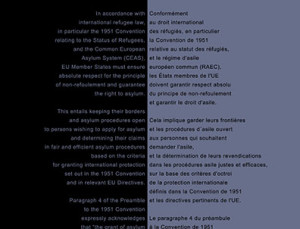 "Whisper" 2014, installation sound/video.
The story of a refugee mistreated under the Dubin Regulation and his long journey to freedom.
Distributed by FemLink. 2014
Produced by Erumenn, Gardabaer, Iceland
Sigrun Hardardottir is Icelandic artist that has been living and working in The Netherlands, Quebec Canada and in Iceland.
Sigrun works with different media but technology plays an important role in the way she execute her refletions in her topics. From simple drawings to complex interactive environements, her works reflects on the forces of nature in her Gaia, Geysers and Volcano series, relations and emotions in her Dialogue and mouvement series, as well as studies into the relation between the reality and abstraction. Most recently Sigrun´s work´s portraits the contradiction and mistreatment that refugees that come to Europe are confronted with under the United Nations agreement on refugees and the Dublin Regulation.