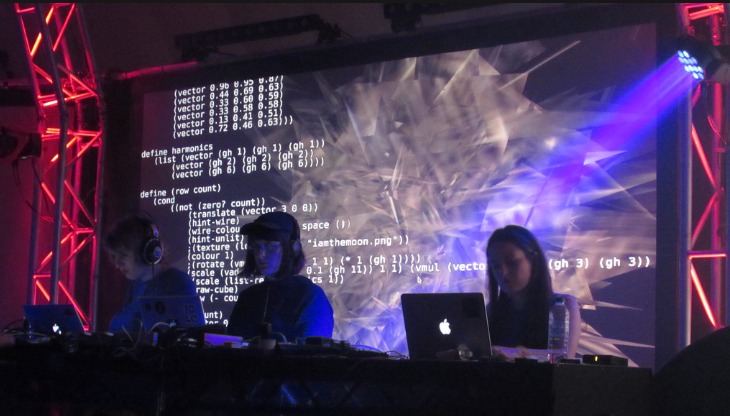 Live Coding Workshop hosted by the City Library.  Free!
REGISTER HERE:
https://borgarbokasafn.is/event/learning/live-coding-beginners-strudel
Live coding is the creation of art and music by writing and changing computer programs while they run live, normally in view of the audience. In the last few decades, this practice has emerged as a dynamic creative discipline, gaining attention across cultural and technical fields—from music and the visual arts to computer science. In live coding the composition happens in realtime, where performers can communicate via sound, visuals, robotic and human movements, or basically anything that can be controlled. In performance the code is often projected on a screen for the audience to follow.
In this introductory workshop participants will get hands-on experience working with the popular browser-based live coding platform Strudel. The workshop will be led by Jack Armitage and Sigríður Birna Matthíasdóttir from the Intelligent Instruments Lab.
Participants ages 16 and older from all backgrounds are welcome, no coding experience is necessary. Please note the workshop will be held in English, and there are only 12 seats available. Participants must bring their own laptop / computer, although a limited number of on-site computers will be provided upon request.
At the end of the workshop at 15:30, participants are invited to share their ideas to help kickoff a new Live Coding Meetup, an open space for artists and programmers of all abilities and backgrounds to meet regularly, work on individual projects or collaborations, and learn about new technologies and practices. The meetup, launching this fall at the library, is a chance for participants to review and share live coding skills, as well as to dive even deeper into Strudel and other topics of interest.
The program for this workshop is as follows:
12:00-15:30: Introduction to live coding using Strudel TidalCycles
15:30-16:00: Live Coding Meetup kickoff
For more information about the international live coding community, see TOPLAP (https://toplap.org/) and Algorave (https://algorave.com/).
More on Strudel and TidalCycles: https://strudel.tidalcycles.org/
For more information regarding the workshop:
Karl James Pestka (he/him)
Project Manager — Makerspace
karl.james.pestka@reykjavik.is | +354 665 0898