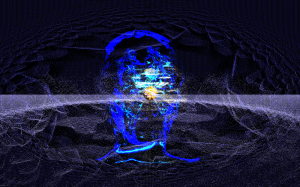 AJO ensemble presents Kontakte, a production exploring the points of contact between electronics, video and live performance. The program includes "Hljóðs bið ek", a sonic and visual work by composer Hilmar Thórdarson in collaboration with video artist Haraldur Karlsson, and Karlheinz Stockhausen's Kontakte.
"Hljóðs bið ek" is inspired by Snorra Edda Vøluspa, the primary source for Norse mythology, with its mysterious poetry on the creation of the world and its coming end. The electronic sound source of the composition is based on live interactive sound technique using material generated from the acoustic instruments.
Karlheinz Stockhausen's masterwork, Kontakte (1960), for piano, percussion and tape, explores the points of contact between tape music and instrumental music. Stockhausen's ground‐ breaking composition is the first of its kind, masterfully integrating electronic and acoustic music into one. Since Kontakte's premiere in 1960, dramatic technological advancements have occurred, revolutionizing electronic music and interactive technology.
In Thordarson's new work, live and interactive sound processing are employed‐‐meaning all sounds the audience hear are created live by the performers and a computer on stage. This differs greatly from the electronic music Stockhausen created, which was made by hand by cutting the magnetic tape with scissors and reconstructing into the "tape music" with which the live performers must coordinate. The use of live interactive video/installation made by the video artist Haraldur Karlsson for "Hljóðs bið ek" creates "kontakt" between music and visual images. The images are inspired by the music of Thordarson and its mysterious theme "Hljóðs bið eg". In his work Karlsson uses live interactive technology to visually interact with the sonic spectrum and physical gestures of the performers.
http://ajoensemble.com/
http://this.is/craters/hilmar.html
http://haraldur.net/
http://inmlp.squarespace.com/haraldur-karlsson/