Gaia in action.
This work is Juxtaposition of shots from the volcanic eruption on Fimmvörðuháls Iceland from april 4th 2010. Here the creativity of Gaia (Mother earth) is in the center, drawing attention to the painterly quality of the imagery from the crater of the volcano as it was an gigantic action painting.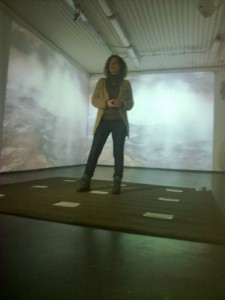 Sigrún Harðardóttir studied at the Icelandic School of Art and Crafts and at the State Academy of Fine Arts, in Amsterdam. Sigrún also holds a Masters of Arts in Communication/multimedia studies from University of Quebec in Montreal. Sigrún has shown her works for over 2 decades in Iceland as well as in Canada, USA, The Netherlands, Germany and in Denmark. Her works can be found in the Art Museum of Iceland, The Art Museum of Kópavogur, The Netherlands Media Art Institute, The National Bank of Iceland, The Reykjavík Energy Corporation and at The Sudurnes Regional Heating Corporation.
For decade the surface activity of a geothermal site has been a source of inspiration for Sigrún which she has captured in paintings as well as in video- and video/sound installations.