Destriplamiento
This video-dance project started in 2009 with a funding from the National Funds for Culture and Arts of Mexico. It is filmed in Mexico and inspired by the last words that the Argentinian poet Alejandra Pizarnik wrote before committing suicide.
After a process of nearly 2 years the project is finished in March of 2011. 'Destriplamiento' is a word invented by the poet that was interpreted in the process of making this video-dance as "unfolded three ways and stripped at the same time".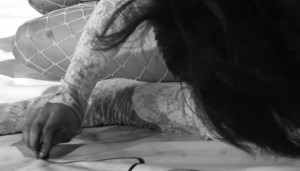 Lilian and Halldor started the Kora: Espacios Indeterminados production project in 2008 in Mexico. This project is interested in approaching choreography through its relationship with other media and with diverse disciplines. Lilian has studied dance and choreography in Cuba, Mexico, Austria and Holland. She has worked as a tutor, researcher and teacher at the national center of choreographic research in Mexico. Her artistic work has mainly been inspired by the theme of the house and identity. Halldor has studied audio engineering in Iceland and Holland and worked as an audio engineer teacher in the G Martell university in Mexico. He has specialized in Binaural research.