Dennis Miller/Moon Young Ha
Amorphisms is a continuously evolving sequence of images that are unified by means of a recurring color palette. The musical score imposes an emotive quality onto the images and guides the overall dramatic curve of the piece.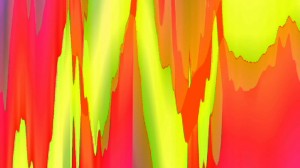 Dennis Miller received his Doctorate in Music Composition from Columbia University and is currently on the Music faculty of Northeastern University in Boston where he heads the Music Technology program and serves on the Multimedia Studies Steering Committee. His mixed media works have been presented at numerous venues throughout the world, most recently the DeCordova Museum, the New York Digital Salon Traveling Exhibit, the 2005 Art in Motion screenings, Images du Nouveau Monde, CynetArts, Sonic Circuits, the Cuban International Festival of Music, and the 2004 New England Film and Video Festival. His work was also presented at the gala opening of the new Disney Hall in Los Angeles (2003) and at the SIGGRAPH 2001 in the Emerging Technologies gallery. Recent exhibits of his 3D still images include the Boston Computer Museum and the Biannual Conference on Art and Technology, as well as publication in Sonic Graphics: Seeing Sound (Rizzoli Books) and Art of the Digital Age (Thames and Hudson). Miller's music and artworks are available at www.dennismiller.neu.edu.
Moon Young HA (b. 1980) is a Korean composer residing in New York City. He combines classical instruments, video, and electronics to create contemporary music. His interests include the organic development of intervals and narrative structure. His work has been presented at festivals and concerts in Europe and America, and his music has been performed by Alarm Will Sound, Empyrean ensemble, LOOS ensemble, ensemble s21, among others. Currently as a McCracken fellow, he is pursuing his Ph.D at New York University, Graduate School of Arts and Science. More information can be found at his website: http://www.moonyoung.net